Review: Lover Eternal (Black Dagger Brotherhood series novel #2) by J. R. Ward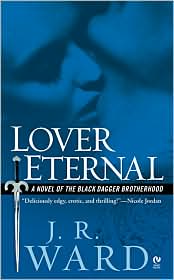 TLDR recap:
Rhage, the Black Dagger Brother who is known across the species for his many and frequent female conquests, is in a bind.  He's found "the one", but she's a mortal and she's terminally ill.  She also knows far too much about his species and he's been ordered by Wrath, the king, to either wipe her memories or kill her.  If that weren't enough trouble, Rhage possesses a literal beast within him that forces him to change shapes when he becomes angry or stressed, and that beast will kill anything and everything around it… even his fellow brothers and, he fears, Mary.  Will Rhage and Mary be able to make their strange relationship work, or will the Black Dagger Brotherhood lose yet another warrior?  An excellent book – put this on your "must read" list!
Title: Lover Eternal
Series: Black Dagger Brotherhood – book #2
Author: J. R. Ward
Prominent Characters: Rhage & Mary
Recommended reader age: 16+
Sexual content level: Moderate
Premise:
Rhage is the Brotherhood's strongest fighter, a drop-dead-gorgeous playboy knockout with a short fuse who has earns his reputation (both for fighting and with the ladies) nightly.  Don't be deceived by appearances – he hates having to be with so many females like that and he'd stop if he could, but it's the only thing (other than fighting) that keeps his beast in check (and you REALLY won't like him when he's angry!).  Mary Luce is a cancer survivor who thinks she may be sick again.  She knows this is it – if her tests come back positive, she probably won't make it through the treatments a second time.  Rhage bonds with her but she can't accept that someone as perfect as he is could ever want to be with someone as plain and damaged as she is.  Rhage has to choose whether to go against Wrath, and by extension the Brotherhood itself – the only friends he's really ever known, or let go the only woman who has ever made him feel.
Thoughts:
One of the things that really stood out for me with this book was the prominence of Mary's cancer;  it's a defining theme throughout the story.  Where most writers, of this genre at least, stay away from hard-hitting issues like this (especially concerning their central characters), Ms. Robb uses it to give us a glimpse into the life and struggle of someone not only afflicted by cancer, but dealing with it for a second time.
Something else I really like about Ms. Robb is that she doesn't telegraph what's coming next in these stories.   Of course some of it is predictable – that's just the nature of this type of novel – but some of it is the opposite of what you think the scene is setting up for.  The emotion and suspense will build up and up until you're sure something terrible is about to happen, then BAM! normalcy… things ending up just as they should, instead of some new catastrophe plaguing the characters.  Then other times, things will be moving along happily, the story unfolding as it should and POW! something life-(and story-)changing happens.  It really keeps you on your toes as a reader and it helps you enjoy even the "down" time between large action or romance sequences.  Using this technique, Ms. Robb is able to bring emotion to scenes that would normally be filler fluff, and that is very refreshing.
You might also like…
There are not really any other series LIKE this one, but when I read it and feel a connection to the characters, I'm reminded of how I feel when I read Jeaniene Frost's Cat & Bones or Karen Chance's Cassie & crew or Nalini Singh's Archangel/Guild Hunter cast.  The characters become part of your "family", and the plots are earthy and hard-hitting… no partnership is spared sudden and unexpected (and sometimes brutal) hardships!  This series has the potential to make you laugh, cry, and swear, and I loved every minute of it!
Memorable quotes:
First impressions…
He wanted to give her another word to say, something like luscious or whisper or strawberry.  Hell,antidisestablishmentarianism would do it.

The effect she had on him was druglike, a tantalizing combination of sexual need and profound ease.  Like he was having an orgasm and falling asleep at the same time.  It was like nothing he'd ever felt before.
After watching Rhage order 4 entrees and 4 sides at dinner, just for himself…
The waitress looked a little awkward.  "Is all that for both you and your sister?"  As if family obligation was the only reason a man like him would be out with a woman like her.  Oh, man…

"No, that's for me.  And she's my date, not my sister.  Mary?"

"I… ah, I'll just have a Caesar salad, whenever his" – feeding trough?- "dinner comes."
Rhage on "manipulation"…
She smiled a little.  "You're a manipulator."

"I like to think of myself more as an outcome engineer."
Final thoughts:
All of the Brothers are physically flawed (and sometimes emotionally as well) in some way.  I really like this – it makes them more real and believable (aside from the whole I'm-a-vampire thing) and easier to connect with.  They are all attractive, but in different ways, and not all of them are drop-dead gorgeous like Rhage is.  I also really like that.  A collection of super-sexy-ridiculously-beautiful warrior-type men is just not believable or relate-able.  These guys are physically attractive in individual ways, and their personalities are all unique and commanding.
In each book, there are characters other than the primary couple that get a decent amount of face time.  Ms. Robb is very skilled at giving these other characters depth and developing their characters without fixating on them or taking away from the title characters.  The result is that, since she is building her character backgrounds and multiple story lines through out each successive novel, when the characters finally have their own book, they've already got a good base and she can start right in on the relationships and book-specific plot lines.  It's chaotic and crazy and I love it!  This way, I get MANY characters to fall in love with, and I get to see them more often!
BDB books are definitely emotionally charged!  I think it's a sign of a good author if, as a reader, you really *feel* something even when you know it's coming.
As a final thought, if you're just starting this series, READ THE GLOSSARY BEFORE YOU START!! Ms. Ward uses an entire new vocabulary of terms in the vampire language, and if you don't at least look at them first, you might find yourself a little confused. =)  Even if this is your second BDB novel, look over it again.  There are a few new words (like wahlker) in this one.
Rating:
4.5 fangs: BITE IT!
READ READ READ this novel!  If you didn't read Dark Lover first, you'll probably be ok starting with this one, but you'll spoil a few of the plot points for DL… and you'll be confused about the strange new vampire vocabulary!  Still, I think Rhage's story is even more powerful than Wrath's, and he got a "must read!" recommedation from me too.  *grin*
Related links:
http://www.jrward.com/bdb/index.html
http://jeanienefrost.com/books/
http://www.karenchance.com/books.html